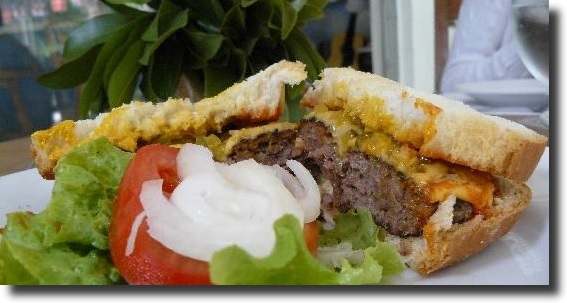 Ma Ruby's restaurant staff claim Tingum to be the proud home of the famous "Cheeseburger in Paradise", as featured in Jimmy Buffet's Parrot Head Hand Book. Ma Ruby confirmed it and she added that sometimes when Jimmy is in the Caribbean, he will stop on Harbour Island just to have one of Ma Ruby's cheeseburgers and will only then continue on his journey. Once you have had one of Ma Ruby's cheeseburgers, you will understand.
Ma Ruby's is your haven on Harbour Island for affordable and delicious comfort food, marrying the authentic styles of the Bahamas and the United States respectively. In addition to the famous cheeseburger and expansive dinner menu, there is also a full restaurant service available for breakfast and lunch at Ma Ruby's. It's so good that it's even been featured on the Travel Chanel!
Ma Ruby's specialties include locally caught fish, delicious toasted sandwiches with a variety of fillings and, of course, cheeseburgers! These classic American dishes comes with a twist of the lively Bahamian spirit, the heritage of which is passed through generations of authentic Caribbean home cooking. Ma Ruby and her team have been mastering the art of tasty local cuisine for decades, utilizing the best fresh ingredients.
Here's what other diners have said:
Terrific burger and key lime pie. The best I've ever had!
Great value, amazing conch fritters, and sublime tropical grounds.
Amazing lobster and fantastic service from the friendly staff.
Bahamian Fritters
Locally Caught Fish
Hearty Toasted Sandwich
See our photo gallery for more.